I did a radio interview this morning on the Vision FM Radio Network across Australia with Robbo Robinson​ and Richelle Wenham​ on the appropriateness of posting on Social Media, images like the drowned little 3 year old Syrian refugee. (I know he may not have been a refugee but he has become synonymous with the crisis). At the time, I did wrestle whether to post it or not, but often in a crisis there becomes one image that puts a human face on what is happening. Reality is that 27,000 people: men, women and children have drowned in the Mediterranean in the last 15 years and it does seem at times that the enormity of that figure passes us by. In April 2015 for example, 700 people fleeing Libya drowned and this was just days after a boat carrying 400 people had also sunk, drowning all on board. Here is a link to the 700 people story.
So I think confronting images like the one of the little boy on a beach can bring a humanity to a crisis and can finally stir the world into action: – which it would appear has actually been the thing that has happened.
The interview did get me thinking though about other iconic images that have come to symbolize a tragedy or major event. Here are a few that I immediately thought of.
So what are your thoughts on posting confronting images on Social Media? For me I draw the line at anything that is gruesome, even the pic I have posted of the iconic image from the Oklahoma Bombing is border line.
Peter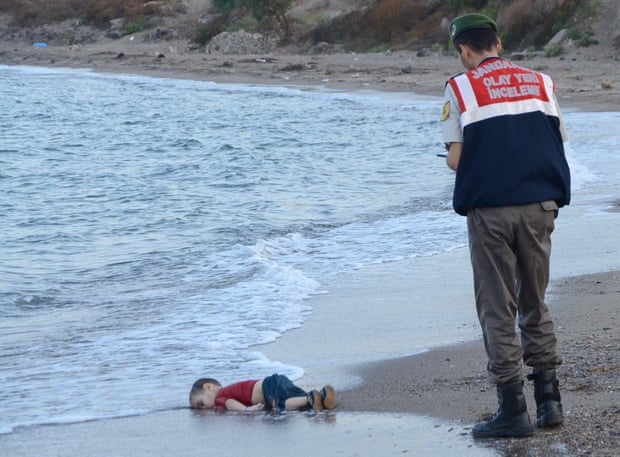 Attacks in New York September 2001
Oklahoma Bombing and the rescue of an injured little girl.
Sudanese Drought
Vietnam War
Tiananmen Square Protests
Conflict in Gaza
Racial equality in the US.
Fleeing war torn Kosovo
The pain of separation when American Marines leave families and go and serve in Iraq and Afghanistan
New Orleans
---
---
Categories: Current Affairs, Social Justice Issues