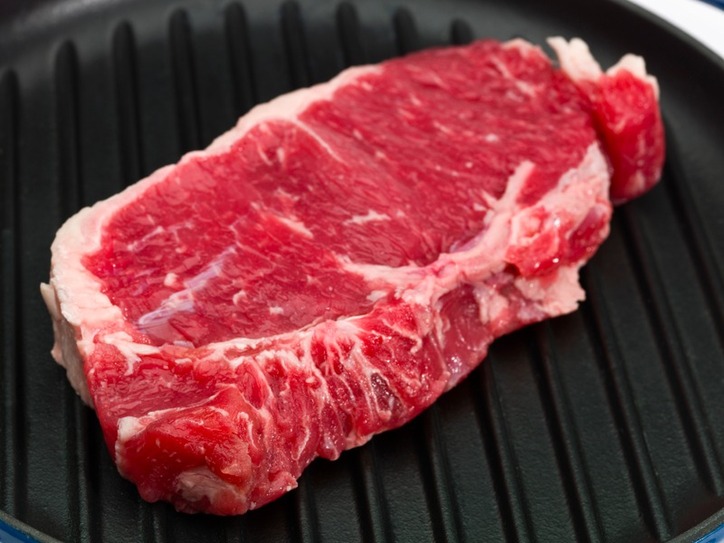 When I was growing up, we never ate red meat on Good Friday. We always ate fish instead. My family and I attended an Anglican Church in Picton NSW, Australia. No meat on Good Friday was just the norm. No one really ever explained it to me, it was just something that we did. In fact my parents still don't eat red meat on Good Friday.
Then I moved to Wollongong and joined Lighthouse Christian Centre. The church used to hold Easter Camps at the Berry Showground over the Easter long weekend. I remember the Good Friday of my first camp. I had gone up the street after the morning worship service and I bought a Steak, Cheese and Bacon pie for lunch from the famous Berry Pie Shop. Half way through the pie I was horrified to think that I had eaten red meat on Good Friday and somehow had shown disrespect to the sacrifice of Jesus Christ. So I decided to check out the theological reason for not eating meat on Good Friday.
There isn't any.
So where did the tradition come from?
1) The idea of fasting as a spiritual discipline is certainly a biblical one.
Matthew 6:16-18 says
16 "Moreover, when you fast, do not be like the hypocrites, with a sad countenance. For they disfigure their faces that they may appear to men to be fasting. Assuredly, I say to you, they have their reward. 17 But you, when you fast, anoint your head and wash your face, 18 so that you do not appear to men to be fasting, but to your Father who is in the secret place; and your Father who sees in secret will reward you openly.[d
2 Corinthians 6:5
4 But in all things we commend ourselves as ministers of God: in much patience, in tribulations, in needs, in distresses, 5 in stripes, in imprisonments, in tumults, in labors, in sleeplessness, in fastings;
2) There is some mention of fasting in the early church – on a Friday, as a mark of respect. Explicit mention is made of the practice of abstaining on Fridays in a document from the end of the first century (The Didache of the Apostles), as well as by St. Clement of Alexandria and Tertullian in the 3rd century
3) It was a practice that was adopted by the Catholic church.
The Catholic period of fasting leading up to Easter is called Lent. Click here to read my Blog Post on Why I Don't Celebrate Lent.
Here is a quote from a website I was reading about the issue
It was the universal custom from the very beginning, and Friday was chosen in memory of the Passion of Our Lord, as a day on which we should make a special effort to practice penance. It is in recognition of the fact that Christ suffered and died, and gave up his human flesh and life for our sins on a Friday that Catholics do not eat flesh meat on Fridays. Pope Nicholas I made this a law of the Church in the ninth century. In the Latin Church, from the early middle ages this one day of abstinence was not considered enough, and Saturday abstinence was added, in honor of the burial of Christ and the mourning of the Blessed Mother and the holy woman on Holy Saturday. This was made a law of the Church by St. Gregory VII in the 11th century, but has since fallen out of custom, except by those who desire to profess their devotion to Our Lady in a special way. The Eastern rite Church also had strict rules for abstinence, given that it was binding for them on Wednesdays and Fridays.
The rules for what can and what cannot be permitted on days of abstinence have also varied with time. St. Thomas Aquinas, for example, indicates that eggs, milk, butter, cheese and lard are forbidden on days of abstinence because they come from animals and have some identity of origin with flesh meat. Present day rules limit the abstinence to flesh meat only.
The abstinence from meat is an ecclesiastical law, but one which has long obliged under pain of mortal sin. Pope Innocent III made this very clear at the beginning of the 13th century, and in the 17th century Pope Alexander VII anathematized those who would minimize the character of this obligation and declared that transgressions against it were only venial sins
4) What did Jesus say about what we eat?
Matthew 15:10-11, 16-20
Jesus called the crowd to him and said, "Listen and understand. What goes into a man's mouth does not make him 'unclean,' but what comes out of his mouth, that is what makes him 'unclean.
Are you still so dull?" Jesus asked them. "Don't you see that whatever enters the mouth goes into the stomach and then out of the body? But the things that come out of the mouth come from the heart, and these make a man 'unclean.' For out of the heart come evil thoughts, murder, adultery, sexual immorality, theft, false testimony, slander. These are what make a man 'unclean'; but eating with unwashed hands does not make him 'unclean.
My Conclusion
If you want to not eat Red Meat on a Friday or on Good Friday as a principle of spiritual fasting, then that's great and that's between you and God.
If you want to eat Red Meat on any Friday including Good Friday, then that is fine too.
The bigger issue is – Do you have Jesus Christ as your Lord and Saviour? It really has nothing to do with when you eat red meat. It has everything to do with – is Jesus in your heart?
John 3:16
16 For God so loved the world that He gave His only begotten Son, that whoever believes in Him should not perish but have everlasting life.
You may also be interested in these Easter Orientated Blogs.
If this Blog has been helpful to you, please feel free to share it on Facebook or Twitter. Email Subscriptions to my blog are welcome. Have a great day.
Ps Peter Pilt
If you would like to donate to my ministry: Here are my bank details.
A/C Name: Life Development Services
BSB: 112 879
A/C:  128 085 816
Swift Code: SGBLAU2S
If you found this blog helpful, informative or inspirational then I encourage you to share it on Social Media. I also invite you to subscribe to my blog so when I post in the future you will receive the blog as an email. I also love connecting through social media so find me on Facebook, Twitter or Insta. (just use my name). 
Here are my Top Ten Theologically Orientated Blogs:
---
---
Categories: Answers to Questions, Church related, Family, Life, Theology, Topics to wrestle with