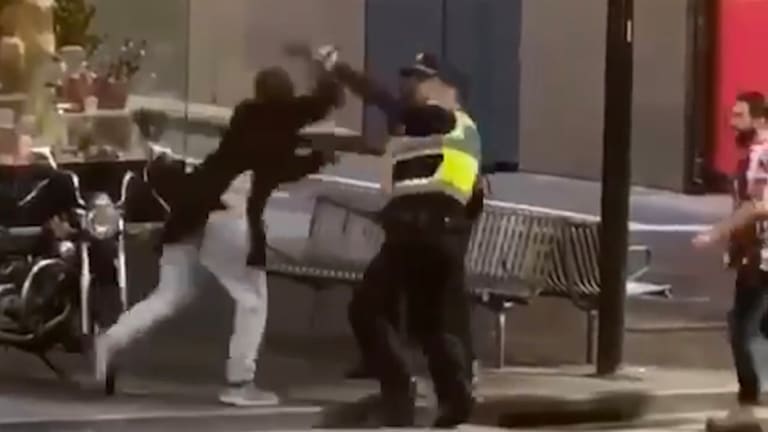 Well once again we have an appalling example of the complete failure of the bail system in Victoria with the Victorian Attorney General confirming today that Hassan Khalif Shire Ali was out on bail at the time, he fatally stabbed a popular café owner and injured several others.
But get this:- Shire Ali had a long history of breaching bailing and failing to appear in court. Yet when arrested for driving charges…the magistrate saw fit to once again release him into the community.
Which he then became a murderer.
So the magistrate failed here. So is he counselled so he improve his performance? Is even given a reprimand? Is he 'benched' for a season? No because magistrates are unaccountable.
I have blogged many times about stories exactly like this. Over and over the court system is failing Australians. Particularly it is failing women who are victims of domestic violence. I personally would like to see a Royal Commission into the Court system in Australia, particularly looking at the operation of the magistrates and their seemingly arbitrary interpretation of the law. How can you have one tough magistrate and one lenient one? Isn't Common Law black and white and viewed through the framework of legal precedent. I am not a lawyer but surely the law is not open to the personal interpretation of a magistrate. Similarly, the issuing of bail should be guided by legal precedence with the history of the offender taken into account.
Let's unpack this for a moment.
Shire Ali comes before a magistrate. He is charged with driving offenses which normally he would be given bail for. Fair enough. Yet he has a long history of breaching bail conditions and an equally long history of failure to appear in court…..Now I am not sure what 'long history' means…is it 8 times, 15 times…not sure….but its not once or twice. And what is the court's response to this blatant disregard for the court system….bail.
Where he then becomes a murderer.
Like you have to be kidding.
Whilst I am raging about the court system, let me talk about the failure of AVOs. These Apprehended Violence Orders or DVOs Domestic Violence Orders are really not worth the paper they are written on. They are meant to protect people who fear that their safety is in danger. He is an example of how they work in real life.
On the 12th November 2018, a Tweed Heads woman was granted an AVO as she was very fearful of her ex partner. Within 24 hours she was brutally stabbed and lay dying when police turned up to her home. She later died of her injuries.
She knew she was in danger and did the one thing our legal system makes available to people like her….the result. She is dead within 24 hours.
I could tell you many stories of women being murdered by their ex partners whilst they hold an AVO against their partners.
Here is my conclusion. The court system is systematically geared to assist criminals and those whose heart is set on harm. It seems the courts do their best to release criminals back into the community and they have no workable system to protect the most vulnerable.
Here are a few of my court or bail blogs you may find interesting.
My Research and Thoughts on the Bail System in Australia
The Bourke Street Mall Attack–I Have One Simple Question
Australia's Judicial System Fails YET Again: Gold Coast Wife Murdered by Husband Out on Bail
When Are We Going to Get Outraged About the Number of Aussie Women Killed by the Men Who Used to Love Them????
Where is our Royal Commission?
Anyway, that's what I think,
Peter Pilt
If this Blog has been helpful, informative, or inspirational to you, please feel free to share it on Facebook or Twitter. Email Subscriptions to my blog are welcome or you can contact me through Facebook (facebook.com/peter.pilt5), Twitter (@PeterPilt) or Insta (@PeterPilt). Have a great day.
Some Of My Most Popular Blogs:
---
---
Categories: Australian, Judicial System